The Ectopic Pregnancy Trust (EPT) was awarded a Google Ad Grant, giving us $10,000 worth of free online advertising per month, to promote the website's pages and help us reach a larger audience. We use all that monthly budget, and continue to optimise and maximise our use of the grant. I'd like to explain how and why we structured our ad campaigns, and give your nonprofit some useful tips on using Adwords effectively.
I presented this case study at Google's Ad Grant Day in London on 31st May and 1st June 2018. Here are the presentation slides.

Questions we asked before structuring ad campaigns
Who are our audiences?
It's unlikely that you have a single audience for your website content. You need to know your audiences, in order to write adverts that will appeal to their interests, and choose keywords that match what they're searching for on Google.
The EPT decided to target three specific audiences:
Firstly, women who currently have or suspect they might have an ectopic pregnancy. They are likely to search Google for symptoms, and want authoritative information on treatment. Since this condition is potentially fatal, we want them to see quality medical information, and fast.
Secondly, women who have had an ectopic pregnancy, who need emotional support, and are concerned about their future fertility. They are likely to search Google for information about having a child after an ectopic, and be interested in other womens' stories, and in the support services offered by the Trust.
Thirdly, medical and healthcare professionals who need information on diagnosis, treatment options, and research. This audience tends to use very different language to patients, searching Google using medical terminology, and more likely to click an ad that's matter of fact, than one that focuses on emotions.
What are our aims?
Are we simply trying to raise awareness of your organisation? Do we want to encourage people to phone or email you? Is there a specific service, project, event or campaign to promote?
The EPT want to save lives and encourage women with symptoms to get medical advice fast. We also want to promote our helpline, online forum and other support services; and improve the awareness of the condition amongst medical professionals. But we don't promote events or fundraising using the Google Grant, because our email newsletter and Facebook page are more suitable channels.
Who are our competitors?
Most nonprofits have competitors. We compete for grants, donations, media attention, and with other institutions that offer similar or overlapping services. In a Google search, your ads are likely to be competing with those of other charities, which can mean your ads cost more per click, or are shown less often. It helps to do some research and find out who else has ads running on Google that will compete with yours, because the more competition for keywords, the higher the average CPC (cost per click), so your $10,000 allocation won't stretch so far.
The EPT had one main competitor, another ectopic pregnancy charity. A digital advertising company helped them run their ad campaigns, and their ads would often appear instead of, or above ours. However, for some reason their ads completely stopped showing a couple of months ago. This led to a noticeable drop in the average CPC of many of the keywords that both we and them had been targeting, to our advantage.
Do staff have the capacity to manage a Google Grant account?
Be realistic about how many hours you'll have to put into building campaigns, and whether you or someone else will be able to commit the time. Accounts perform best when you regularly login and tweak them. There's a learning curve and you'll need to spend time learning to use the tools.
The Ectopic Pregnancy Trust outsource the work, and I manage the Google Grant for them.
We structured our Adwords campaigns to match our audiences
We have three campaigns, one for each of our audiences. Note that the $329 per day budget (do not exceed this, it's a strict rule of the Google Grant) is split between the three campaigns, but not equally. Our main priority is to save lives by putting quality health information in front of women in immediate need, so the Symptoms campaign gets the lion's share.
The Google Grant rules only allow you to use the Search campaign type, so you can only show text ads in Google searches. You can't have ads that appear on other websites, or images or video.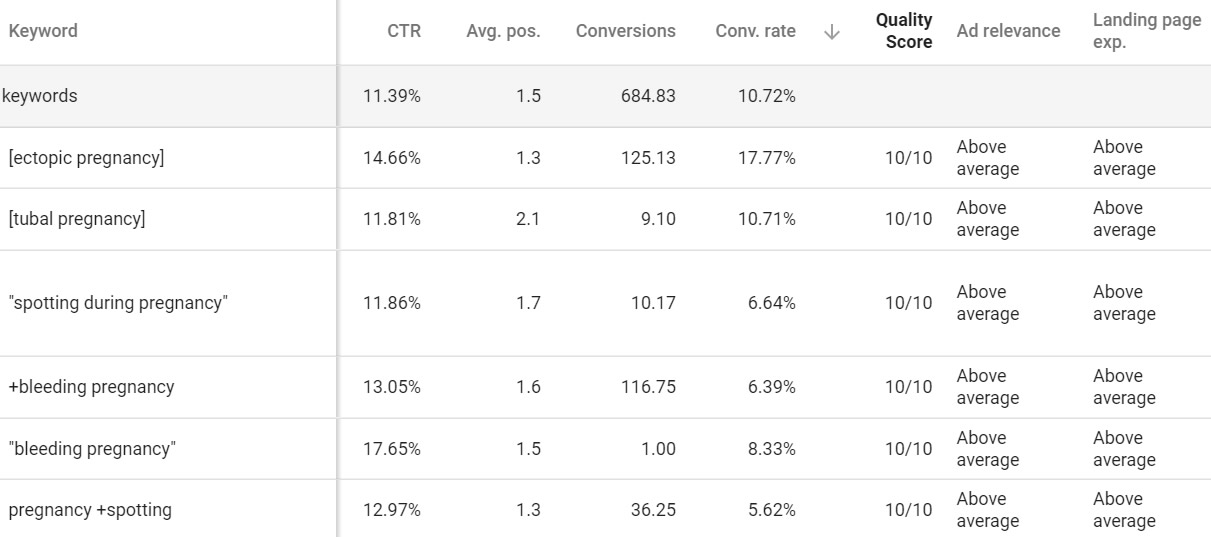 Within each campaign we have two or more ad groups
Each ad group contains at least two ads, plus multiple keywords that trigger the ads to be shown when people search for them. The idea is to group similar ads together, and to match them to keywords that are relevant, and not used in other ad groups. For example, in the Symptoms campaign we have two ad groups. One has keywords for common symptoms; the other is just in case people were searching for "tubal pregnancy" which is a synonym for ectopic pregnancy.
Within each ad group we have multiple ads
We have more than one advert so we can find out which wording makes people more likely to click on the ad and visit the website. Over several years, we've polished our ads' wording, writing new ads, removing the less effective ones, until we're happy with the result.
Within each ad group we chose keywords
Within the Symptoms ad group, are 121 keywords. That's a lot. Usually, I wouldn't have that many. Instead, would create more focused ad groups, and spread the keywords between them. But in this case, it's valid. There a lot of potential words we can combine, but in the end we want everyone to see the same ads and visit the same page on the website. We use keywords and phrases such as "stomach pain pregnancy", "pregnant tummy pain", "pregnancy pain", "could i have an ectopic pregnancy", "shoulder pain pregnancy", "brown blood pregnant". Google lets us choose whether those phrases must exactly match what people search for, but we prefer to let similar wording trigger an ad.
There are very good arguments for creating multiple ad groups with only a dozen precise keywords in them, and if you have a very niche, important keyword you could even create an ad group for that single lone keyword.
Adding callouts, sitelinks and phone extensions
Often overlooked when people set up Adwords, extensions are valuable because they append additional information to your ads and make it more likely people will click.
Callout extension: add short, simple text to your ads.
Call extension: puts your phone number on the ads.
Sitelink extension: adds links to other pages, not just the main one linked to in the ad. Because maybe the searcher would be more interested in a different page.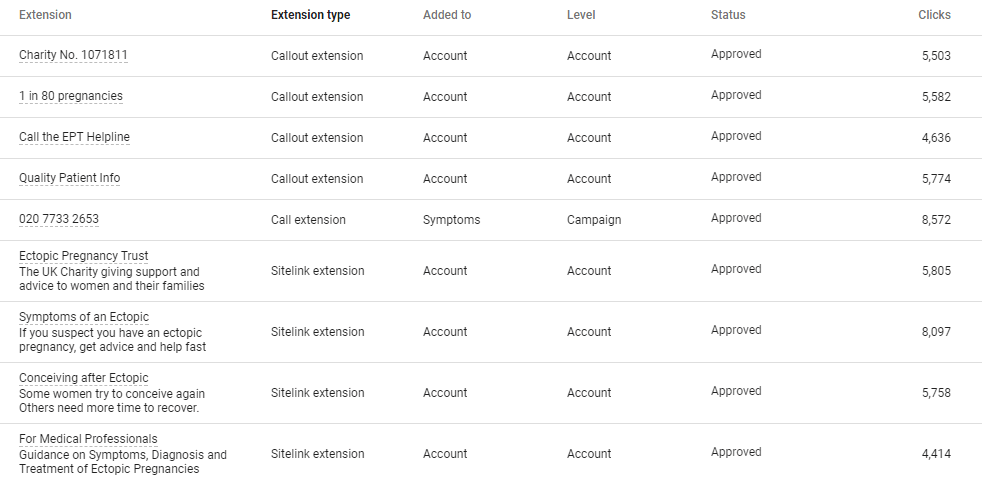 Assigning goals
How do you know if, when they get to your website by clicking an ad, visitors go on to do what you want them to do? For example, do you want them to fill out a form? Visit a specific page? Click a link to visit an external website? You set up goals. The EPT tracks many goals including: online form submissions; purchases made in their online shop; and phone calls from ads. That way, we know which campaigns and which ads and keywords, send us the most active visitors.
Tweak, test, analyse
Look at any of the screenshots above and you'll see that Adwords provides a wealth of statistics. It can be daunting at first, but as the months go on, that data is what will help you improve your campaigns, choose which ads to rewrite, which keywords to add or discard. Your Adwords routine should be data-driven, in order to maximise your use of the budget, and boost your website traffic with the most interactive visitors. Don't be afraid to experiment, because that's the route to optimisation.
Understanding the statistics is such a big topic, there's no room to go into detail here, but there is plenty of advice out there.
Whilst Google Adwords has great reporting tools, you need Google Analytics too. It will tell you what's working and what needs to be improved on your whole website, and tell you where visitors are coming from, including Adwords.
Search terms and negative keywords
You can find out what people type into Google to trigger your ads. You might be surprised, especially if you allow broad targeting of most of your keywords, at how irrelevant many of them are. If you see relevant keywords that aren't in your ad groups, add them. If lots of people are visiting because they searched irrelevant keywords, and therefore wasting some of your Google Grant's budget, add them to the Negative Keywords list.
For example, the EPT used to get a lot of visits from people searching for "ectopic heartbeat" and "ectopic kidney" until we added those as negative keywords.
Google likes to change things
A couple of years ago Google replaced Text Ads with Expanded Text Ads, which let you write longer text in your ads. The dark blue line shows CTR from the point when I rewrote all the EPT's ads, compared to the light blue of the month before. It made a huge difference. Google will usually notify you if something important changes, so pay attention to those notifications in the top right of the Adwords dashboard.

Don't ignore notifications, but use common sense
Google Adwords might constantly make recommendations, whether it's to add new keywords or split your ad groups into smaller groups, or remove redundant keywords. Much of this advice is good, but you are responsible for making those decisions, and Google is just guessing without really knowing what suits your organisation.
Outgrowing your Google Grant
Sadly, Google has stopped taking applications for the GrantsPro programme, which allowed a budget of $40,000 per month instead of $10,000. So what should you do when you're using up all the budget each month? Here are some suggestions:
Target cheaper keywords. Over a couple of years, the EPT has halved its average CPC which has enabled us to double our clicks.
If you have the funds, get a paid Adwords account in addition to your Google Grant. You can use it for types of marketing that are disallowed by the Google Grant.
Try Twitter and Facebook marketing. You can target demographics and people's interests in a much more precise way than you can with Adwords.
Apply for a Google Grant
No need to delay. The application should be easy, provided you read the instructions carefully when setting up your Google Adwords account, but the steps differ depending on your country.
Find out if you're eligible | Make an application
Where to get help with your Google Grant
The official Ad Grants forum is particularly helpful at resolving problems with the application and setup of your Google Grant.
You might be able to find a skilled Google Adwords volunteer via CITA.
Or you could hire me to manage your Google Grant for your charity.