Charities can apply for a Google Grant to get up to $10,000 per month's worth of free online advertising using Adwords. That can greatly increase the number of people looking at your website's pages. An already popular website might see a 10% increase in visits; and you can easily double or treble a less well known or small charity's website traffic.
I maintain the Adwords accounts for the following charities, all of them relatively small and unable to put together big advertising budgets, so they are in a position to benefit from a Google Grant. The charts use Google Analytics data from August 2017 to illustrate the percentage of overall website visits that come via the Google Grant.
It's clear that a Google Grant can be a very effective promotional tool, and boosting a charity's website traffic. However, some context is necessary.
An already popular website can get a sizeable boost from a Google Grant
You'll notice that the Ectopic Pregnancy Trust has the smallest percentage of traffic from Adwords. That's because it's the most popular website of those above, with over 65,490 visits in August, of which 17.7 % came from Adwords. That's still a substantial 11,613 clicks from Adwords in a single month, using up the entire $10,000 per month budget.
Most of their ads are aimed at women who have the symptoms or suspect they may have an ectopic pregnancy, to prompt them to find out more and maybe get medical attention fast, so these ads could save a life.
A small local website can benefit from geographical targeting in Adwords, and treble visits
Healthwatch Derbyshire has an entirely local audience, and they aim to get feedback on health services from local people. Local nonprofit websites can suffer from low traffic, but fortunately Adwords allows geographical targeting. Healthwatch Derbyshire's ad campaigns are geographically targeted at people in the county of Derbyshire; plus they have a campaign that targets people who are outside Derbyshire but searching for health information using keywords that mention the county or local towns and cities. Adwords excels here, almost trebling what they otherwise would have managed using just organic search and referrals.
Benchmarking your Google Grant success
How does your Adwords account compare to other nonprofits? That's not simple to work out. For starters, your nonprofits is probably not identical in its outreach, awareness, campaigning and informational activities, to other nonprofits. So you can only compare broadly.
Google apparently don't publish official stats
As this discussion on the official Google Ad Grants forum points out, Google don't share baseline stats publicly. They did state that most recipients only manage to spend a few hundred dollars of their $10,000 monthly allocation.
Benchmarking in Google Analytics
You use Google Analytics right? Click Audience > Benchmarking > Channels to find out how your Adwords results compare with other similar websites. You'll get a few simple stats, nothing in-depth.
First specify an Industry Vertical. The broader you choose, the more websites you'll be compared with. The narrower you choose, the more relevant a comparison they will be. You can also filter by country, and by popularity of website. In the screenshot below, I'm comparing the Ectopic Pregnancy Trust with 879 other websites categorised as People & Society > Social Issues & Advocacy, anywhere in the world, getting 1,000 – 4,999 visits per day.
Google Analytics helpfully uses green and orange to highlight the major differences. We're getting a few percent lower visits than the average, but doing a lot better in both organic search and paid search (actually the free Google Grant ads) than the compared websites.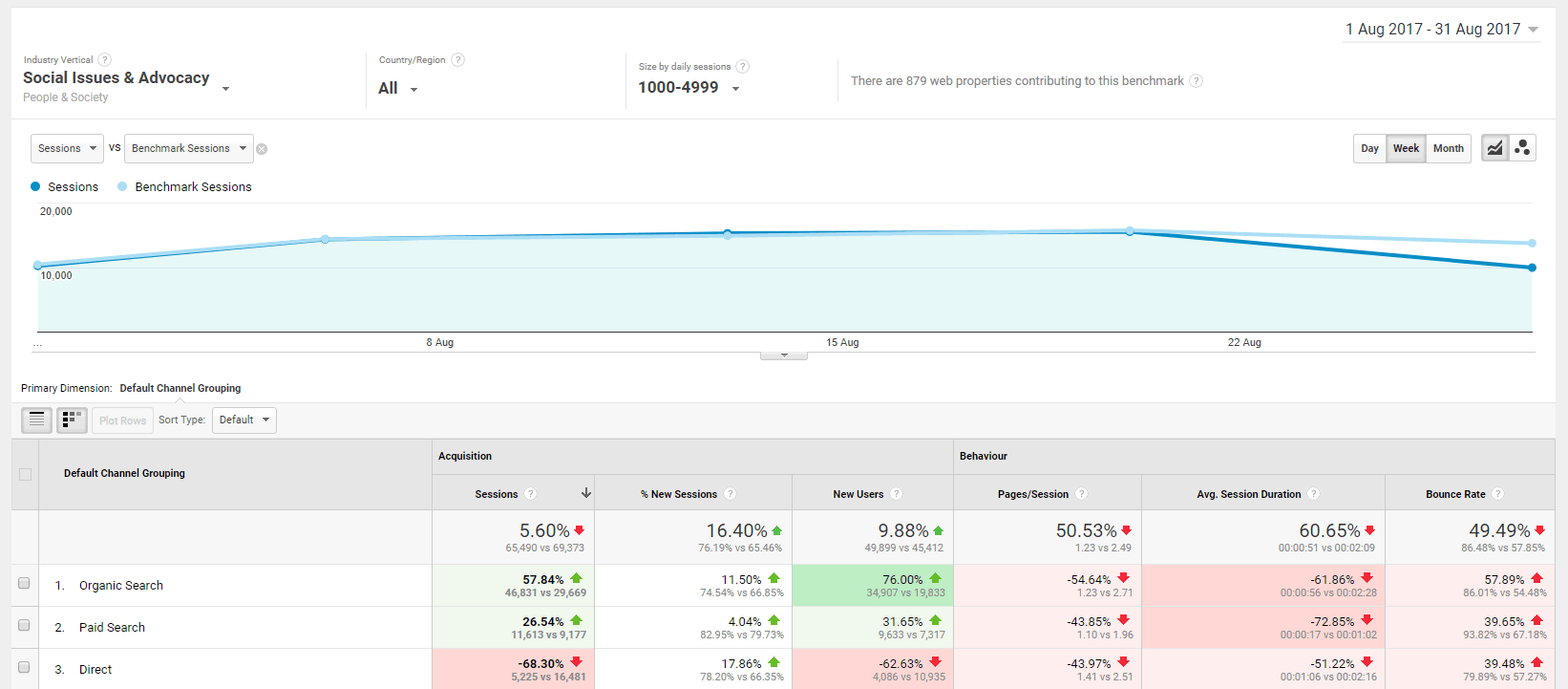 If instead I chose the broader People & Society category, the comparison would be with 8,472 websites and the results would be quite different, with our website not performing so well. It's important to compare like with like, but sometimes it's difficult to find a vertical to match your charity. I can see a fitness but not a health category, and choosing the women's issues vertical returns no data. What adds to this difficulty, is that websites have to have self-categorised themselves and many either won't have noticed that setting, or will have chosen differently than you might expect.
The M+R nonprofit digital advocacy benchmarks survey
I recommend you read this report of M+R's annual benchmarks survey. It details many useful points of comparison on how nonprofits are using social media, websites, online fundraising and email etc, backed up by a lot of relevant data. You'll find metrics for paid advertising (nonprofits invested 69 % more in digital ads than the previous year) , Facebook advertising (Nonprofits paid to increase reach for 2.7% of their Facebook posts in 2016; they will reach just 8% of fans with a post that isn't promoted). Although there doesn't seem to be anything specific to Google Grants, you're still going to learn a lot.
Do we need to compare?
Maybe we should instead simply strive to improve, month on month, year on year, how well we perform in Adwords. Provided the impressions remain high, the CTR improves, and a low CPC enables us to get plenty of clicks, we're doing ok. Once the budget is used, the account optimised, and those stats start to level out, there's still work to do. Improve quality scores for ads and keywords, concentrate on ads that lead to conversions and lower bounce rates. If we're doing all that, and doing it well, isn't that enough?
What benchmarks have you found to rate your Google Grant success? If anyone knows a way to find average CTR, CPC etc for their sector, I'd love to know about it. Feel free to leave a comment below, and we'll discuss it.