I am pleased to announce my inclusion in the directory of Google Ad Grants Certified Professionals. This community is a new initiative by the Google Ad Grants team. They are validating agencies with Ad Grants experience and who specialise in working with nonprofits.
The directory connects grantees to a global network of recommended professionals, agencies, consultants and trainers who look after nonprofits' Ad Grant accounts.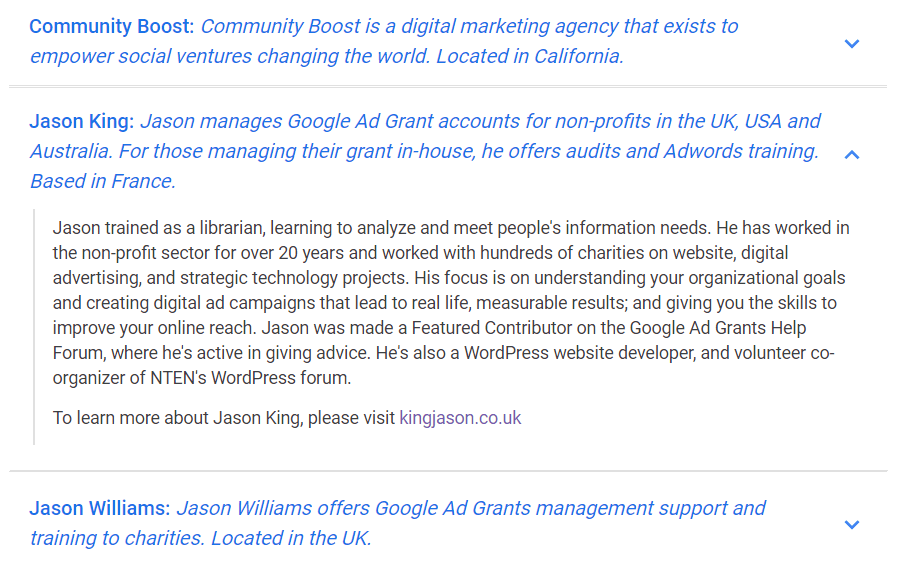 What are Google Ad Grants Certified Professionals?
We're agencies and freelancers that work with nonprofits to optimize their Google Ad Grant accounts to get the best value from the $10,000 free monthly advertising budget.
In order to qualify, I had to have experience of working with multiple nonprofits' Ad Grant accounts; demonstrate good stewardship of those accounts and a focus on quality and conversions; and be able to show a thorough understanding of the Ad Grants policies.
I'm thankful to the Ad Grants team, who have taken important steps this year to improve the quality of Ad Grants accounts, and provide more training and guidance, and have now created this community to help nonprofits get the professional support they need.
Why work with an Ad Grants Certified Professional?
Wondering what questions to ask, and what value we can add? Read more about the Ad Grants Certified Professionals Community.